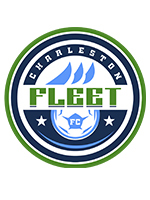 Amber Manor
Director of Sports Performance
Amber is in her 1sr season as the Director of Sports Performance for the Charleston Fleet.
At The College of Charleston:
Amber Manor is in her third year at the College of Charleston as an assistant director of sports performance.
Manor recieved her Master of Science degree in Exercise Science from the Citadel. While at the Citadel she completed a graduate assistantship as the coordinator for women's athletics, including working with volleyball, soccer and golf. She was also an assistant with football, where she supervised the In-season QB program.
Prior to working at the Citadel, Manor completed an internship at the University of South Florida in Tampa, Fla., as strength and conditioning intern. In that position she worked with football, men's and women's basketball, baseball, softball, volleyball, men's and women's soccer and men's and women's tennis.
Manor got her undergraduate degree in health and fitness from Ottawa University, in Ottawa, Kansas, where she graduated in 2007. At Ottawa Manor was a student-athlete on the women's basketball and track & field teams. In 2007 Manor was an NAIA Academic All-American in basketball and also received that honor for track & field.