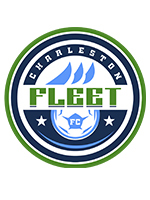 Gail Osborne
Director of Media Relations
E-mail:
Gail Osborne enters her first year with the Charleston Fleet as the Media Relations Contact.
Since 2004, Osborne has been an Assistant Athletic Director and PE teacher at Pinewood Preparatory School in Summerville, SC.
Prior to Pinewood she worked as Community Relation Manager for the WUSA's (Women's United Soccer League) San Jose CyberRays from 2001-2003.
Gail worked in Sports Development for Milton Keynes Council for 10 years before moving to the USA. She helped implement the first Center of Excellence for girls soccer in the South of England.
Gail has been coaching youth soccer for 20 years. During that time her teams have won 4 State Championships, been State Runners up and have been 5 time Regional Champions. Currently she is a staff coach for USA/MP.
Osborne is a native of Milton Keynes, England and she is married with two children. She has a son, Thomas, who is a junior at Limestone College and plays on the men's soccer team and a daughter, Jessica, who plays soccer for the USA/MP 04 Premier.